Sonoff SNZB-02 Zigbee Temperature & Humidity Sensor
---
The Sonoff Temperature & Humidity sensor works exactly like advertised, but it has a big short coming that makes it difficult for me to recommend this sensor over it's competitor from Shelly.
I bought this specific Sonoff sensor based on this marketing sentence from their website: "Measure the temperature and humidity in real-time, and sync data to your mobile phone in no time." It turns out that "sync" functionality is very limited. There is no history synced.
That is the biggest drawback of the Sonoff SNZB-02, it does not record any history, the readings are real-time only which make this sensor kind of worthless to get any meaningful environmental data. Which means the only useful thing this sensor offers is the ability to turn on the fan if the temperature goes above a certain level.
Sonoff's biggest competitor, Shelly, has a similar sensor called the Shelly H&T, which works directly on your Wi-Fi without the need for a Zigbee bridge and more importantly allows you to view the history of your temperature recordings in your home.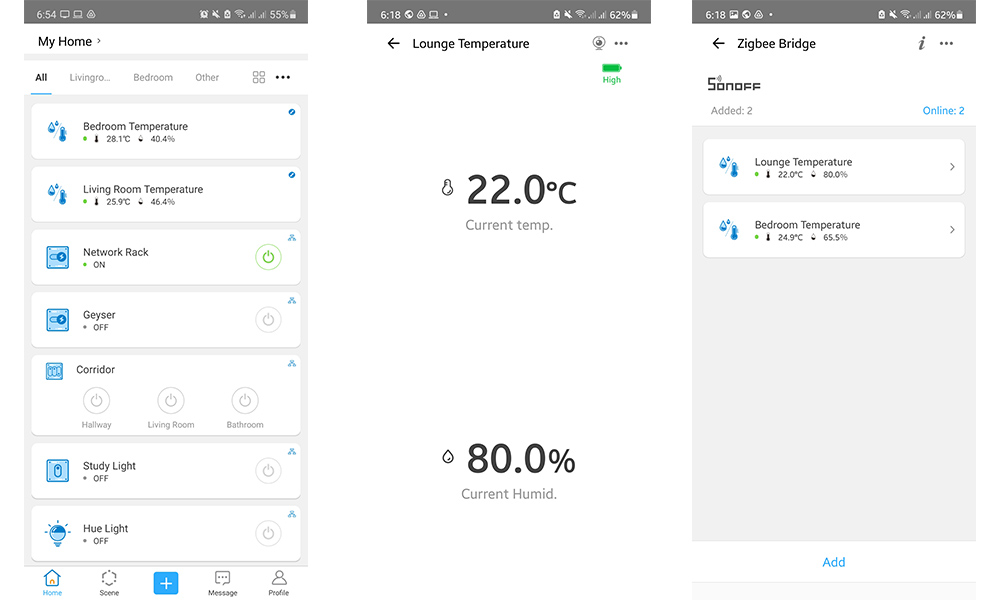 What are the PROS of the Sonoff SNZB-02 Zigbee Temperature & Humidity Sensor
Lightweight & Small Footprint.
Works with the EweLink App
Long-lasting (about 1 year) and easy to replace button cell battery
Accurate Measurements
Ability to use it to control other connected Sonoff devices
What are the CONS of the Sonoff SNZB-02 Zigbee Temperature & Humidity Sensor
Requires a Zigbee bridge in order to work, No Wi-Fi ability
No History, you cannot see the history or a graph of your temperature readings
False positives with the low battery warning (will often times say the battery is low even when it is not)
It's still a fantastic device and works well despite these querks, but I genuinely hope Sonoff (ITEAD Intelligent Systems Co.Ltd.) will enable history readings in a future update. It will not be difficult to do, but I suspect their reasoning is budget related as it would require them to store the information on their servers, so it might become a paid feature.
Then again, if they do end up charging me to access my data then I will simply use Shelly instead.
Sonoff SNZB-02 Zigbee Temperature & Humidity Sensor Specifications
Battery Model: CR2450 (3 volts)
Dimentions: 43 x 43 x 14 MM
Pairing Time: 30 seconds
Supported Zigbee Gateways: Sonoff ZigBee 3.0 Bridge or any other bridge supporting the ZigBee 3.0 wireless protocol.
ZigBee: IEEE 802.15.4
Encryption Type: AES-128
Working Temperature: -10 degrees to 40 degrees celsius